My Unisa Registration 2019
Complete & submit your registration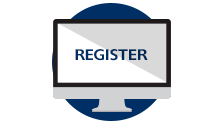 Successful applicants and re-registering students must register to study through Unisa in 2019.
Applicants (new applicants & Unisa students who applied for admission to a new qualification) may only register if they have received an offer of placement from Unisa and have accepted the offer online.
Re-registering students can register for the 2019 academic year during the relevant registration period once they have received their registration details from Unisa.
Should you wish to change to an alternative qualification, please apply for the alternative qualification during the next application period.
*  Please take note of Unisa registration dates.
** Please take note of Unisa's cancellation dates.
Check that you are ready to complete & submit your registration
Registration options
Unisa's online registration process is quick, simple and accurate. This is why we recommend this option. When registering online, you'll be prompted when information is missing or incorrect, helping you to ensure that you include all the necessary information when submitting your registration form.
Web registration
Welcome to Unisa Web registration
2019 academic year

First semester registration: opens on 3 January;  closes on 25 January 2019.

You will need the following to register on the web  

>>>>>
Student number;     You must be a returning student or if you are a first-time student (at Unisa), have successfully applied for admission.
Email address;    Free email for life is provided by Unisa. For more information go to the myLife website.
Please note the following:
Your registration will take a minimum of two weeks to process.
You will be notified via a letter, e-mail or SMS once your study material has been posted. The message will indicate a track and trace number for the parcel as well as the despatch date.
To register select << GO >>
Undergraduate Registration   <<GO>>
(All undergraduate qualifications including the BTech degree and National Diplomas)
Postgraduate Registration: Honours and Diplomas   <<GO>>
Postgraduate Registration: Master's and Doctoral   << GO>>
Credit card payment    <<GO>>   OR   the payment walktrough    <<GO>>
(A note about the security of online payment to Unisa.)